Product Description
I. The working principle:
CNC flame and plasma cutting machine is a new type of thermal cutting equipment. Its working principle is that the compressed gas of oxygen + acetylene or propane is used as the working gas, and the high-temperature high-speed flame (or plasma arc) is used as the heat source to partially melt the cut metal, and simultaneously blow the molten metal with high-speed airflow. Walk and form a narrow slit. The device not only has high cutting speed, narrow slit, flat cut, small heat affected zone, low deformation of the workpiece, simple operation, and remarkable energy saving and material saving effect.
A flame cutting method: suitable for cutting all kinds of metal materials such as cast iron and carbon steel.
B Plasma cutting method: suitable for cutting various metal materials such as stainless steel, aluminum, copper, cast iron and carbon steel.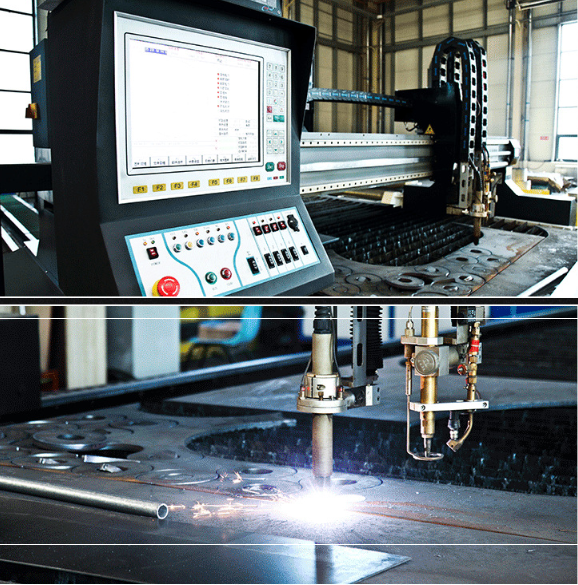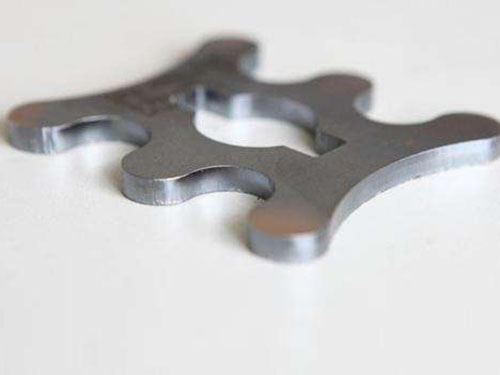 II. The relevant performance characteristics:
1. Rack gantry structure, the system has good rigidity and high transmission precision.
2. Bilateral drive, stable operation.
3. Flame/plasma dual-purpose CNC cutting system, easy to operate.
4. Fully automatic AcadRcam graphics programming software, simple nesting.
5. Standard configuration of flame and plasma cutting functions;
6. Optional multiple flame/plasma torches for simultaneous cutting to increase efficiency
7. Flame and plasma cutting can be configured to automatically increase the capacitance or automatically increase the arc voltage for easy operation.
8. The beam adopts gantry steel structure, bilateral drive and high stability;
9. The structure of the whole machine is much more stable than the Xiaolongmen, beautiful, atmospheric and stable;
10. The horizontal guide rail adopts domestic or imported linear guide rails with high precision and good guidance. The longitudinal guide rails are made of special steel rails with a surface that is ground and has high mechanical precision and wear resistance.
11. The drive rack and gear are customized by professional manufacturers, and the surface is carburized and quenched with high precision. The horizontal and vertical transmission adopts German NEUGART high precision, high torque, low backlash, maintenance-free planetary gear reducer.
12. Multi-configuration cutting application, by configuring different cutting tools, different torch systems can meet various processing purposes such as flame, dusting, plasma, etc.
13. The pneumatic system is divided into a gas control panel and a gas distribution system, which are produced by professional manufacturers. Equipped with automatic ignition device and tempering preventer, safe and stable;
14. The horizontal direction can be widened, and multiple steel plates can be placed at the same time for cutting, and the efficiency is high;
15. Longitudinal use of fine-grained heavy-duty rail steel, the overall structure is stable, and the longitudinal guide rails can be lengthened arbitrarily;
16. The beam and the longitudinal guide rail are all processed by gantry planing to ensure the cutting precision.
17. Both are quenched to effectively prevent structural deformation;
18. Equipped with high-power plasma cutting to meet the cutting of different metal materials;
19. Add other special functions according to user needs;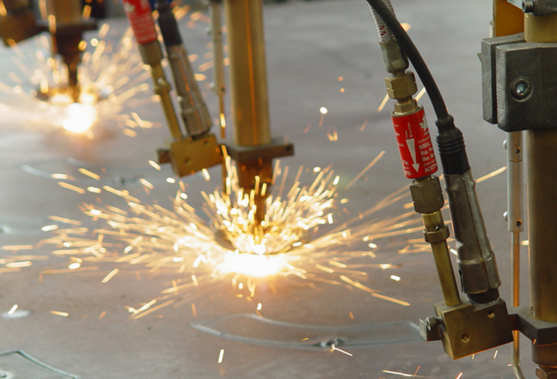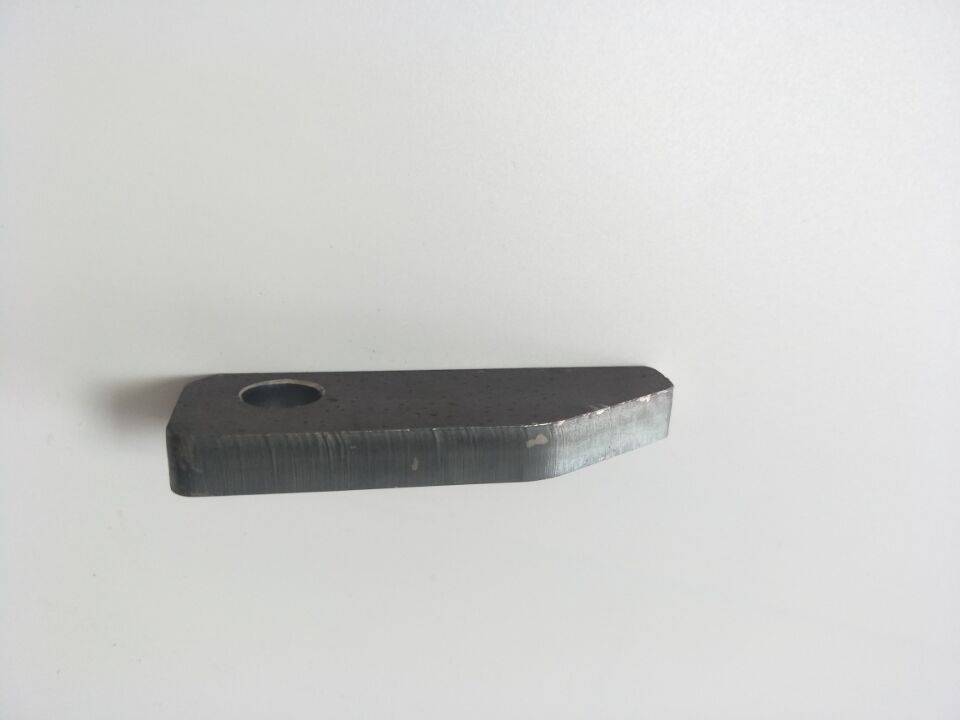 III. The system advantages:
1. Processor: using industrial grade ARM7 processing chip;
2. Display: 10.4 inch color LCD display, input / output: the system provides 13 optical isolation inputs 8 optical isolation output;
3. The system is highly reliable and has the ability to resist plasma interference, lightning strikes and surges;
4. Practical flame/plasma cutting process, automatic corner rotation control, and height adjuster control during plasma processing;
5. It has the function of kerf compensation, and whether the compensation in the program is reasonable, and the corresponding report is made for the user to choose;
6. Point recovery, automatic power-off recovery function, automatic memory of breakpoints;
7. Arbitrary selection and selection of perforation point processing functions;
8. It has an epitaxial perforation function suitable for thick plates, and a bridging function suitable for thin plates;
9. Retreat, select segments, breakpoint recovery, optional perforation position and other functions, greatly facilitate the user's control;
10. When the cutting can be transferred;
11. It adopts a special small line segment processing function, which is easy to walk and can be widely used in metal cutting and advertising, wrought iron, etc.
12.24 graphics (expanded and customized) parts library containing commonly used basic machined parts;
13. All nesting software is fully compatible;
14. English operation interface conversion, dynamic graphic display, 1 to 8 times of graphic magnification, dynamic point automatic tracking, using U disk to read the program.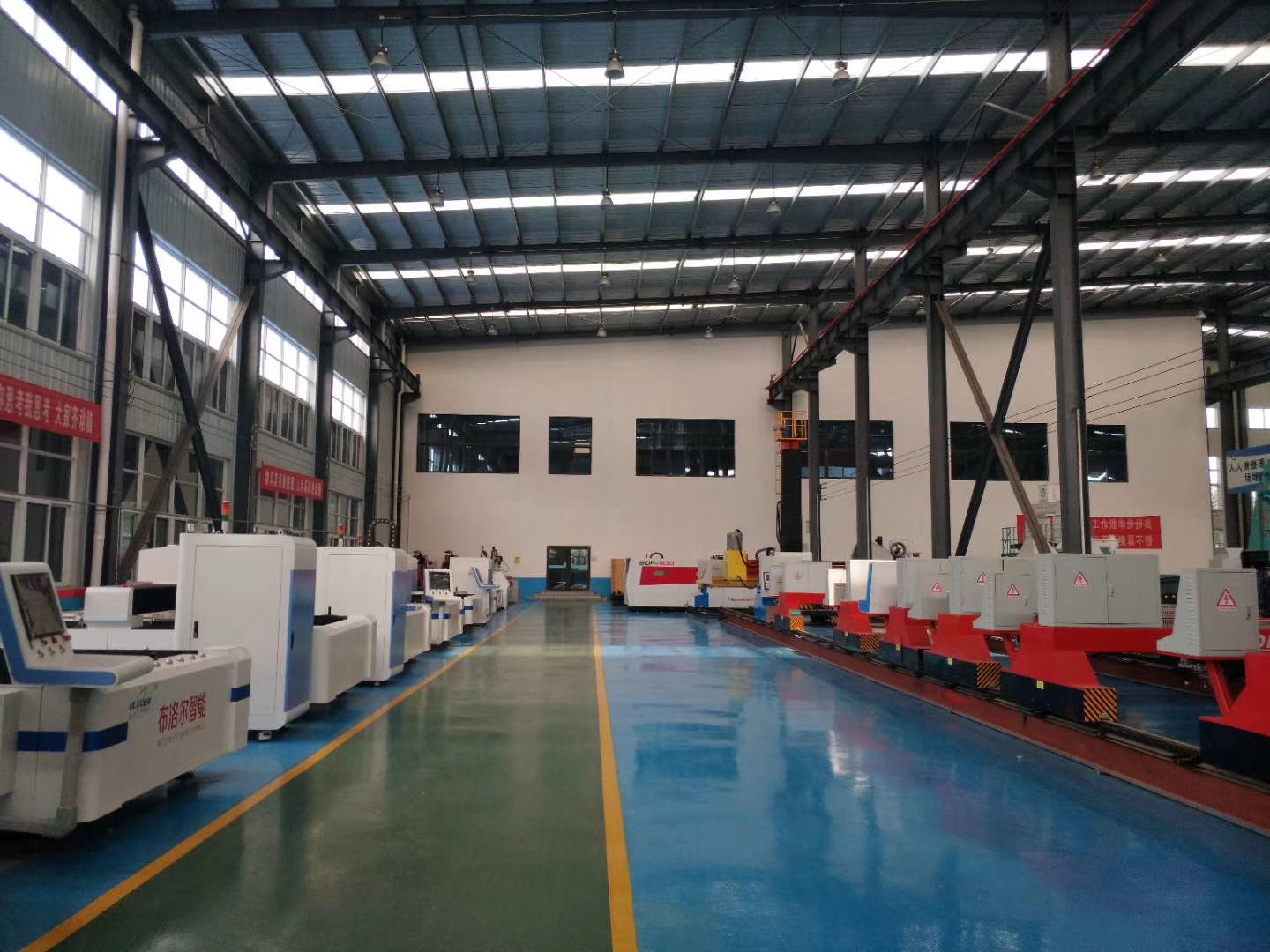 1. Effective cutting width: 3200mm
2. Effective cutting length: 6500mm
3. Plasma cutting thickness: (carbon steel: edge cutting ≤25mm, perforation cutting ≤16mm)
4. Flame cutting thickness: (carbon steel: edge cutting ≤ 200mm, perforated cutting ≤ 60mm)
5. Cutting torch down stroke: 1-200 (mm)
6. Machine running speed: 50-5000mm/min
7. Set the speed error: <±5%
8. Automatic adjustment high precision: <±1.0mm
9. Longitudinal straight line accuracy: ±0.5mm/10m
10. Straight line repeatability: ±0.5mm/10m 11. Straight line repeatability: ±0.5mm/10m
±0.5 mm

Straightness

±0.5 mm

A) Equipment positioning accuracy and repeatability: in line with JB/T5102-1999 standard

B) Cutting dimensional accuracy, cut surface quality: in line with JB/T10045.3-1999 standard

Roundness

±0.5 mm

Diagonal difference

±0.5 mm

Repeatability

±0.5 mm

Machine marking accuracy

≤0.5mm

Cutting surface quality (roughness) (select δ=25 sheets)

Rz(um)=70+1.2a

Visual inspection: roughness 12.5